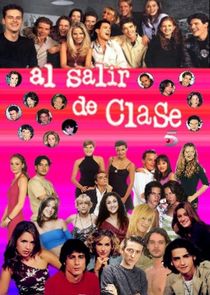 Premiered: 1997-09-08
Avg Rating: /10
Airs: Monday, Tuesday, Wednesday, Thursday, Friday at
Description:
Al salir de clase is a television series Spanish juvenile court, issued between 1997 and 2002 by Telecinco and produced by BocaBoca. It is characterized by a very ensemble cast that served as a quarry to a large number of young players, like Elsa Pataky, Alejo Sauras, Pilar Lopez de Ayala and Hugo Silva. Its plot is situated in the institute 7 Robles (located somewhere in Madrid), where a large group of teens of all types are related, out partying, they fall in love, etc. In total, the series consists of chapters 1199 and a special bonus chapter.