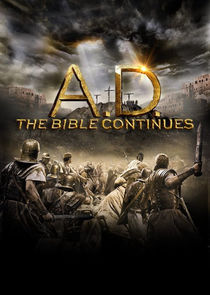 Premiered: 2015-04-05
Avg Rating: 6.4/10
Airs: Sunday at 21:00
Description:
In the follow-up to the eye-opening success of The Bible miniseries on History, the 12-hour miniseries A.D. The Bible Continues - from producers Mark Burnett and Roma Downey - will look at the lives that were instantly altered following the death of Christ. His disciples, mother Mary and key political religious leaders at the time saw their world turned upside down and their lives forever altered. Beginning at that fateful moment of the Crucifixion and the Resurrection, part two of the greatest story ever told will focus on the disciples who had to go forward and disseminate the teachings of Christ to a world dominated by political unrest and the start of a whole new religion that would dramatically reshape the history of the world.