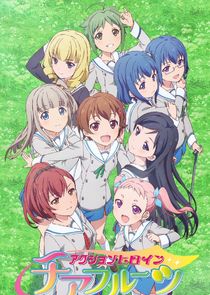 Premiered: 2017-07-06
Avg Rating: /10
Airs: Thursday at 02:28
Description:
Since one "heroine warrior" of a local city in Japan has attracted huge popularity and become a national star, other cities have also started having their own "heroine warriors." Now the most popular heroines' action live shows are the nationally popular contents among Japanese people. On the other hand, Hinano-city, which is a fruit production area, has failed to keep up with the trend. Misaki Shirogane, a high school girl who loves the city, is suggested by her aunt, the governor of the prefecture who has also felt a sense of danger in this situation, decides to produce Hinano-city's own action heroine theatrical company.