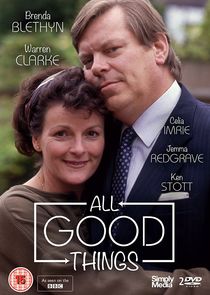 Premiered: 1991-05-14
Avg Rating: /10
Airs: Tuesday at 21:30
Description:
Kind deeds go spectacularly askew in this gently comic all-star drama. A marriage and home can be made complete with the arrival of a new baby, but Shirley Frame feels a need to share her good fortune by going out into the world and helping others driving husband Phil up the wall. It s not easy being a Good Samaritan in a world of tower blocks, drug abuse and homelessness, even if your own life is rosy. Shirley identifies a string of potential good causes, leaving Phil holding the baby as she tries and fails to fix the lives of others.