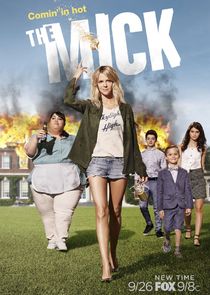 Premiered: 2017-01-01
Avg Rating: 7.3/10
Airs: Tuesday at 21:00
Description:
Mackenzie The Mick Molng is a brash, blue collar, two-bit hustler who has spent her entire life gaming the system and shirking any semblance of responsibility. But when her estranged sister and billionaire brother-in-law flee the country to escape federal charges, the opulent, care-free life Mickey has always envied is finally within reach… But there is one minor catch: she must assume custody of her sister's three rich, entitled, high-maintenance children.
Episode 2
Mickey's relationship with Alba is tested when Greenwich divorcee Trish hits rock bottom and becomes the perfect new friend for Mickey. When Mickey sends Jimmy over to help Trish with some home repairs, she begins to question just how casual her relationship with him really is. Meanwhile, Sabrina and Ben take a shot at Chip's ego.
Air Date:
3 Oct 2017
Episode 1
Mickey and the kids are forced to downgrade from their temporary residence at a hotel after their financial advisor cuts them off due to excessive spending. Mickey and Sabrina refuse to accept the decision and launder up a plan to prevent anyone from stopping their stride. Meanwhile, Jimmy teaches Chip that the tricks to living in a luxurious hotel can be simple.
Air Date:
26 Sep 2017