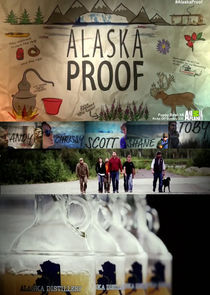 Premiered: 2016-01-14
Avg Rating: /10
Airs: Wednesday at 19:00
Description:
Alaska boasts some of the most rugged landscapes and untamed creatures on Earth; which is why the 'Last Frontier State' quenches a thirst for adventure unlike anywhere else. With the premiere of Alaska Proof, Animal Planet pours the spirit of Alaska into an eight-part series that spotlights a different kind of spirit - the kind we drink! Wet your wild whistle beginning Thursday, January 14, at 9 PM ET/PT. Alaska Distillery, located at the foothills of the Alaska Range, has what no other distillery on Earth can provide. It's a grassroots operation comprised of passionate, imaginative artists who create world-class, hand-crafted, award-winning vodkas. In the quest to harness the unique essence of Alaska into a bottle, the team - led by Founder & CEO Toby Foster and his faithful dog Hooch - explores the far reaches of the wilderness to harvest the finest exotic ingredients Mother Nature has to offer.The team takes great pride in what some would call an unconventional approach to making vodka. Their critically-lauded salmon-infused vodka makes headlines for one of the best Bloody Mary cocktails in the world. And master distiller Scott Lindquist is the only person in the world with a permit to harvest Prince William Sound's 10,000-year-old free-floating glacier ice, which produces the purest water on Earth. The team makes frequent expeditions into the wild to experiment with Arctic ice worms, caribou antlers (already shed) and fireweed honey; among countless other natural resources. Their occupational hazards include bears, poisonous plants and treacherous terrain, but to these artisans, the dangers are worth making some of the world's finest vodka.