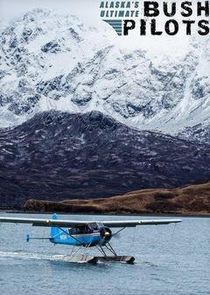 Premiered: 2015-03-30
Avg Rating: /10
Airs: Monday at 21:00
Description:
Island Air, flying out of Kodiak Island, Alaska, is home to the bravest pilots on the planet. Alaska's Ultimate Bush Pilots, produced by Orion Entertainment, is a new television series in production and scheduled to air on the Outdoor Channel in mid-2015. The Island Air team pilot de Havilland Beavers - single-engine, high-wing, propeller-driven bush planes - fly anywhere they need to go. Their mission is to move explorers and adventure seekers, hunters and anglers, tourists and locals, archeologists and surfers and prospectors deep into the Kodiak back country; taking off and landing on water, dirt, dry stream beds, on the sides of mountains, amid bolder fields, even on glaciers.Navigating the island's geography requires extreme flying skills, but it's the weather that makes their world utterly unpredictable. Flying around fog, through rain, snow, and sleet, transporting essential supplies and life-saving materials to the ends of the earth is all in a day's run for a Kodiak bush pilot and the staff and crew of Island Air. But when the weather doesn't cooperate, tensions run high - it's the pilots who must make the call about whether it's safe to fly - and staying grounded is seldom a popular decision. It may be a cliché, but it's true: there are bold pilots and there are old pilots, but there are no old, bold pilots. Experience the adventure, the romance, the freedom, the inherent danger in the day-to-day operations of coolest outdoor job in the world.