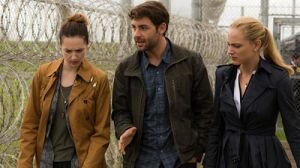 Zoo - Season 1, Episode 4
Technical
Episode Title: Pack Mentality
Episode Run Time: 60
Episode Air Date: 2015-07-21 21:00
Episode Summary: Jackson, Abraham, Mitch, Jamie and Chloe are tasked by a top intelligence agent to find the cause of the strange animal behavior around the world. When the team travels to Mississippi to investigate the wolf attack on the prison, Mitch and Abraham break off to catch one of the wolves, and Chloe, Jackson and Jamie discover that death row inmate escapee Evan Lee Hartley might somehow be involved in the attack. Also, the team meets FBI Agent Ben Shafer, who may know more about the prison fire than he's saying.